Hot Dog & Marshmallow Campfire Roasting Stick (Food grade stainless)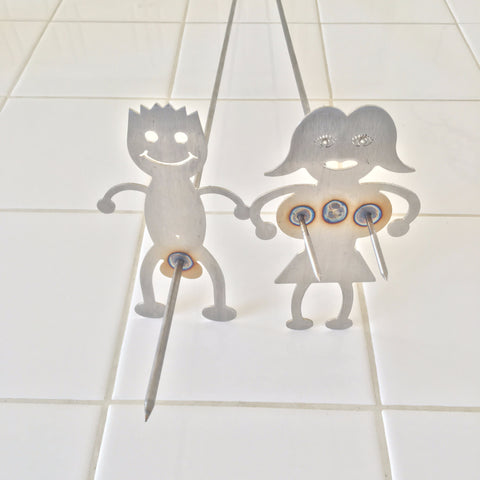 1x set of "standard finish" food grade stainless roasters (no paint to contaminate your food or rust to form on bare carbon steel)
You get 1x Male and 1x Female roasting stick to help bring the laughs to your next camp fire.
The roasting sticks are constructed out of brushed stainless steel bodies, stainless shanks and even come with varnished wood handles at no extra charge. We have left these roasters with the "standard finish" to help anyone on a budget. We also offer these roasters in a "premium finish" where we have electo polished the welded areas to remove the rainbow heat marks as well as touch up the brushed finish for the ultimate finish.
"Premium Finish" roasting stick link:
http://805metalcraft.com/products/hot-dog-marshmallow-campfire-roasters-skewers-food-grade-stainless-steel 
If you have any questions please feel free to contact us.
---
More from this collection