Hot Dog & Marshmallow Roasting Stick FAMILY!!! Food Grade Stainless Steel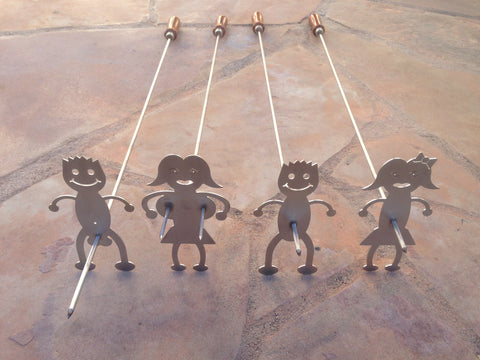 This listing is for a "family" 1x Male (Willie), 1x Female (Marsha), 1x Boy (Willie Jr.) & 1x Girl (Marsha Jr.)

Enjoy the laughs of your favorite hot dog and marshmallow roaster family with your friends and family this camping season. Now that you've asked for kid friendly roaster and we listened, you can roast all night long.

These roasters are hand crafted in the USA out of high quality stainless steel. Don't be fooled by other painted units produced out of thin gauge carbon steel (which rusts). "Willie", "Marsha" and the kids will hold up to the test of time. We have crafted this lovely couple out of stainless sheet metal for the bodies, stainless bar stock for the shank and wood handles (included). We have also passivated them to help protect the stainless steels life as well as put a beautiful brushed finish on them.

You can purchase your own Willie, Marsha or kids a sets or individually.
---
More from this collection