BAKING NAILS, ALUMINUM (SET OF 6)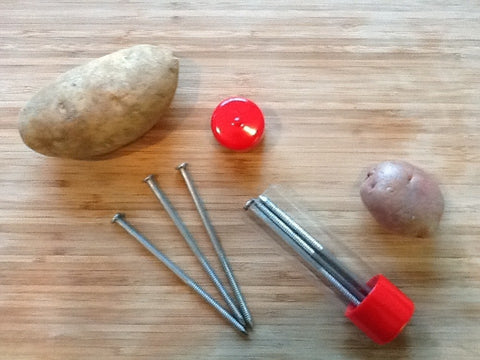 Aluminum baking, barbecuing, cooking nails. These nails allow you to cut your baking and barbecuing times by up to 50%. The way the baking nails work is they allow you to cook your items not only from the outside in, but the inside out simultaneously. You can use them for baking potatoes, sweet potatoes and yams as well as barbequing your favorite sausage, kielbasa or bratwurst.

Inside your reusable "Tater Tack" tubes you get your choice of Qty 6 Aluminum (4 inch long).

These nails are dishwasher safe.

If you require more than 6 nails please contact us, we do carry them in bulk and can supply extras if 6 isn't enough. Such request will increase the unit price as well shipping cost (not by very much as all though).