The Man Card bottle openers, credit card sized (6 PACK)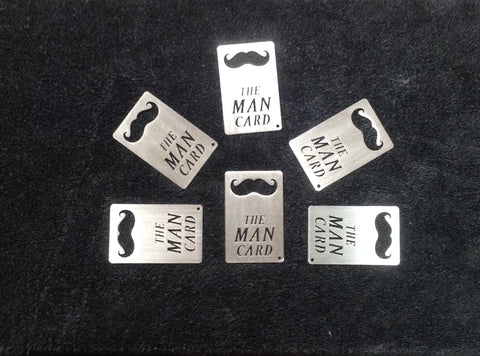 This listing is for 6X stainless cards in protective sleeves*

Have you ever been in a situation where you wanted to be THE MAN, not just a "man"??? Well now is your chance to make that happen.

Ever be called out on having a man card??? Or better yet, need to open a bottle and not have an opener or way to get the job done? Earn your "man card" with your friends when you whip out THE MAN CARD. THE MAN CARD is constructed from 100% stainless steel in the USA and will make you THE MAN in a time of need. Whether you want to carry it in your wallet or on a key chain (not included) THE MAN CARD will be there for you to be "The Man".

6 pack of beer = $8.79
Gas driving to a party = $5.37
THE MAN CARD = $8.33 + shipping

Being able to quench everyone's thrust, save the day & be THE MAN = $ PRICELESS


With the 6 pack of cards you can make sure that you're the only man in the crowd. Lets face it, your beverage might get warm while you're busy opening everyone elses drinks.
---
More from this collection